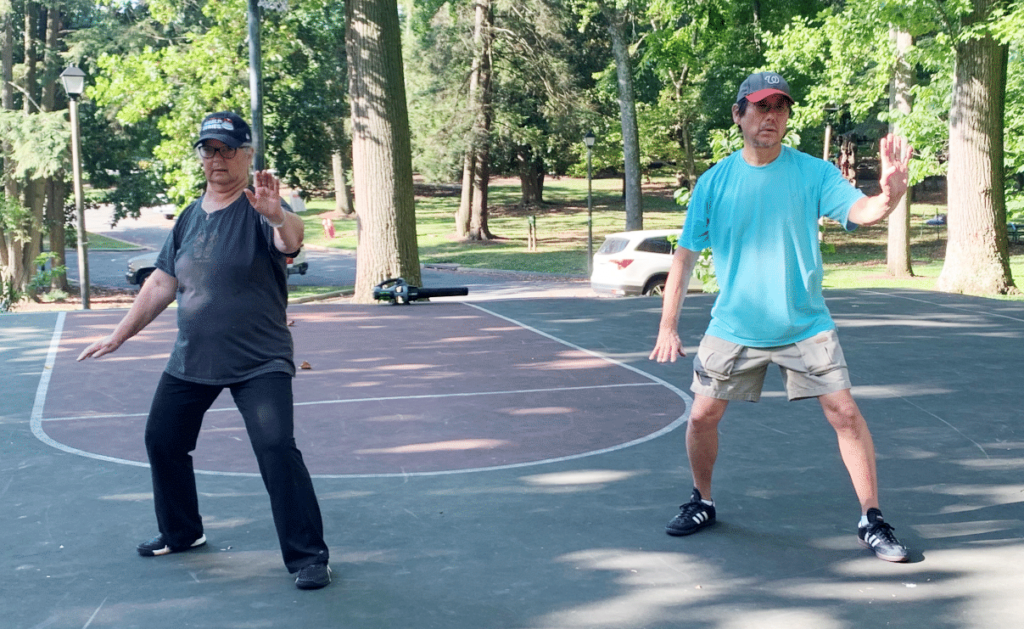 Be Patient with both Tai Chi and You: From a Disabled Tai Chi Practitioner
By Jeff Momoi with Stephan Berwick. Jeff Momoi is a long-time student of Stephan Berwick, who enjoys Tai Chi practice with his wife, Ann, in his battle against chronic disability.
How long have you been doing Tai Chi and what style? And what made you first consider doing Tai Chi?
I've been doing Chen style Tai Chi for seven years though it seems like just yesterday. I have a heredity genetic condition called spinocerebellar ataxia type 6 (SCA 6) which causes: poor balance, a loss of coordination in my arms and legs, and difficulty with fine motor skills. There is no medical treatment for my condition and my symptoms become more acute with age.
Research and searches on the Internet found numerous articles on the benefits of Tai Chi for balance. During the late 90s and early 2000s I was losing my balance, repeatedly falling and breaking my arm and ankle requiring multiple surgeries to repair broken bones. The Ataxia support group I belong to at Johns Hopkins University as well as my neurologist at Johns Hopkins Medical suggested that Tai Chi may slow the inevitable progression of my condition. The SCA 6 condition usually results in the use of a wheelchair by your mid 60s. I am 64 and so far, I've beaten the odds.
I truly believe that Tai Chi has helped me. The practice of Tai Chi is adaptable to my disability. I'm fortunate and I'm extremely grateful to have, my wife Ann, motivate me and practice Tai Chi with me. I'm fortunate to have Stephan Berwick's True Tai Chi in the DC/Northern Virginia area conveniently located near me. Stephan has limitless patience, empathy, and master skills. Stephan is both creative and disciplined in the art and science of Tai Chi, an excellent teacher.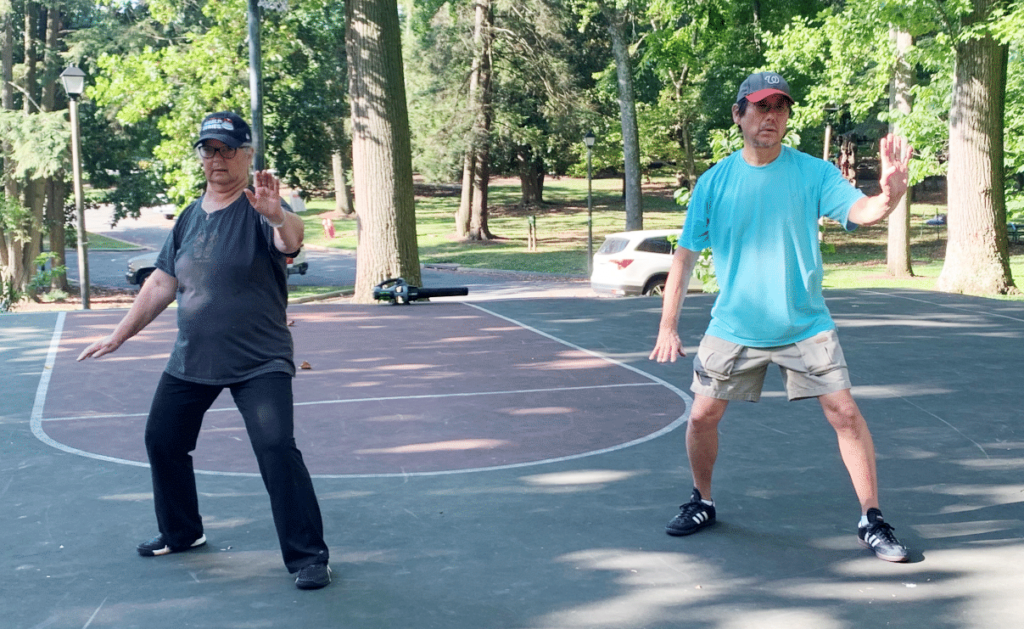 Do you enjoy Tai Chi? Why?
I do enjoy Tai Chi for its structure and the concept of opposites. It can be practiced at a slow pace or a more challenging fast pace. Tai Chi is structured yet can show nuanced artistic interpretation or adaptation. Tai Chi can be simultaneously violent power and placid calm.
What was the first benefit you noted?
The first benefit I noticed was the control of my legs and increasing strength in my legs. The intentional weight shifting for balance focuses my mind. I noticed that settling my mind and relaxing when balancing helped with maintaining my balance. Stepping, shifting your weight and silk reeling with controlled, relaxed movements translated into relaxed controlled movements in daily life: walking, getting up from a chair, entering and exiting a car and negotiating stairs.
How was doing Tai Chi then, compared to now?
My Tai Chi practice has become more fulfilling. I'm just beginning to understand the flow of energy in the body, the small but important nuances of hand position and weight shifting, relaxation and the sequence of flow from one movement to another movement.
What was the first challenge you encountered in practice and how did you get through it?
My first challenge was raising a leg and balancing on the grounded leg. I still have difficulties, but I practice relaxed concentration, trust the process, shift my weight to the side and remember to sit back a bit I can accomplish the leg lift. The most important part is to get my mind into a relaxed state.
How much do you practice (including instructional time)?
I practice about four hours per week during the COVID era. Pre-COVID with an indoor gym, it was about six hours per week.
How has your progress been? Good, slow, fast, easy, hard?
My progress: is a relative term, since my goal is to move with clear intention and fluidity. I can possibly reach this goal every day and every time I practice. It's a continuum and progress for me is not measured as discrete points along a line moving forward or back.
Midway into your Tai Chi odyssey, what benefits did you get or feel?
About midway in my practice, I began to understand that having a relaxed body and mind, with intentional concentration is important. Once my thoughts start racing, my actions become forced and uncontrollable.
How is Tai Chi benefitting you now?
Tai Chi is teaching me to move with intention, to understand my body's movement and translate this understanding to my daily routines. An example of this is a problem, with what the experts in SCA6 identified, as an executive function deficit. This is accomplishing a task: making scrambled eggs; what are the orderly steps required in making scrambled eggs? I have struggled with this ordering issue lately. Learning the 19 Form or Lao Jia Yi Lu exercises both my mind and body in sequencing: the sequencing of movements in the Tai Chi forms is perfect training.
What do you hope to gain from Tai Chi in the future?
I hope to be able to practice Tai Chi as long as I am able, but my learning so far has been invaluable to me. My future plans really are my current plans, to continue learning to move with intention.
Why do you recommend Tai Chi and to whom?
I would recommend Tai Chi to anyone with a movement disorder if your movement limitations allow some range of motion. Practicing Tai Chi with the assistance of a chair would be beneficial just to become aware of the mind and body connection. It seems Tai Chi is purposely designed for those with some physical disability. The contradictory concept of relaxed tension is difficult to explain but has been so helpful to me in just normal daily activity. Mainstream exercises such as running, stretching, and weightlifting are beneficial but don't include holistic elements of both mind and body training. A simple standing practice is extremely beneficial for me, making small incremental adjustments to your body. Your mind is constantly aware of your body position. However, even standing practice though it seems simple, is an insidious challenge.
If you are thinking of trying Tai Chi my recommendations: be patient with yourself, find a good teacher or master, and try Tai Chi for a year, be patient with both Tai Chi and you.
About the author: Stephan Berwick is a Chinese martial arts expert and a teacher, contributor, and author at Chi Force.  He is the founder of True Tai Chi, a Washington, DC-based branch school of the historic Chen Village Tai Chi Academy. For more information, visit truetaichi.com/bio